Music Collections
One of the most popular places in our libraries is the music collection. Music fans can always be found intently browsing their way through the trays of CDs. 2008 - 2009 statistics show that 207,641 CDs were issued and the size of the CD collection across the library network was over 54,000 items.
Each year New Zealand Music Month gets a real celebration in our libraries with live performances from a wide range of local artists and it is not uncommon to find live music performances in libraries at other times of the year. Approximately 20% of our music collection is New Zealand material.
Dr Bradshaw's Donation
The journey to the lively promotion and accessibility of the widest range of music formats began in 1942 with the donation of 600 scores by Dr J C Bradshaw, a longtime choirmaster and organist at Christ Church Cathedral. The lending of vinyl records began in September 1955 with a collection of 542 mainly classical recordings. The collection also included jazz, musical comedy, drama performances and light opera. At first all recordings were mono. The first stereo recordings entered the collection in 1960.
Development of the collection speeded up in response to changing technology and formats and the arrival of specialist staff saw the collection embrace popular music, New Zealand artists, sound effects, comedy, blues and country, while continuing to provide a top class collection of classical recordings and scores.
New Central Library Boom
The opening of the new Central Library in 1982 saw the music collection move from the back rooms to a prominent location on the ground floor with a specialist team to run things. In 1983 the library held one of the first demonstrations of compact discs in Christchurch and began loaning CDs in late 1985. The new format soon swept all other formats aside and more suburban libraries developed music collections. Today music can be borrowed through all our libraries.
Other developments gave music new importance in the library's collection. For a number of years the Central Library had listening posts where people could relax in comfortable chairs and listen to music of their choice and this service continues today at New Brighton Library where customers can relax in armchairs with a view of the Pacific Ocean through the windows.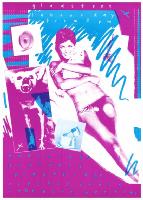 The growth of the internet has also allowed new enhancements to our music service. Thanks to dedicated cataloguing, scores, songbooks and recordings are indexed so customers can easily search for individual pieces of music. There are many useful musical internet resources available for customers, like the Naxos musical database which enables you to listen to music online. Our librarians have created an online guide Advert Music which identifies those irritatingly catchy bits of music the admen like to throw at us. Another example is a great digitized collection of band posters from the thriving 1980s Christchurch music scene which will no doubt bring back memories for people and capture the flavour of the times.
Related pages