Bishopdale Library / Te Kete Wānanga o Papa Kōhatu
Bishopdale was the third library to be opened in the Waimairi County Libraries network. It was opened on 18 September 1976 by the Prime Minister Robert Muldoon as part of the new Bishopdale Community Centre. The library occupied part of the ground floor of the community centre and was a success from the start. The first librarian was Miss Kristine Strathern. After just four months of operation it was reported that enrolments were almost on a par with those of the Redwood Library. Four out of five of those borrowers were new to the county library services, and book issues were consistently higher than those at Redwood. In 1977 Bishopdale began to open on Saturday mornings from 9.30am to 12pm to align with the Fendalton and Redwood libraries.
Amalgamation and After
In 1989 the Waimairi District Council was amalgamated with Christchurch City Council and Bishopdale became part of the Canterbury Public Library network. The library had a big makeover in 1994 including repainting and new carpets and service desks.
When Bishopdale Library celebrated its thirtieth birthday in September 2006, the Bishopdale team enjoyed a week of special events and treats with their customers. Customers were regaled with sweets and giveaways and many of them recalled and shared their memories of being in the community at the time of the library opening.
The latest upgrade took place in July 2008. The library was closed for three weeks for painting, new carpet and changing the layout. The aim was to create more areas where people could browse and relax to read the newspaper or magazines.
Kaitiakitanga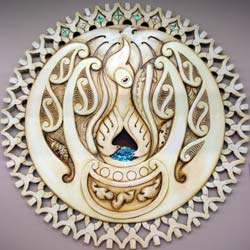 A new art work was created and unveiled in July 2008. Called Kaitiakitanga it was created by well known local craftsman, artist and maker of traditional Māori musical instruments, Gavin Britt He lives in Bishopdale and was very keen to create some art for the library that would inspire the community to reflect on the environment they live in.
Kaitiakitanga, meaning guardianship, is the name given to the artwork. The role of Kaitiaki is about assuring the sustainability and the long term use of our natural environment and resources.
This taonga depicts the circle of life and speaks of kinship of all. It is cyclical in nature reflecting renewal and sustainability and of interconnectedness between the realms of Ranginui & Papatuanuku, Ira tangata humankind, the animal kingdom and the natural environment. It is symbolic of the evolution of life, in which one thing is connected to everything else.