Laptop winner 'over the moon'
Helen Yong is glad she spent a couple of minutes visiting the Christchurch City Libraries 150th anniversary website earlier this year – out of more than 3700 entries, hers was the lucky entry drawn as the winner.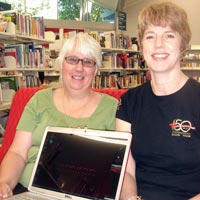 Christchurch City Libraries manager, Carolyn Robertson and Aotearoa New Zealand Centre team leader Annette Williams presented Helen with her red Dell Inspiron laptop at her local library, Redwood, on Monday, 2 March.
"I'm over the moon," Helen said. "It's amazing. I nearly wasn't going to enter, then I thought well, someone has to win it – I'll give it a shot."
Helen, a writer, says she couldn't have dreamed of a better prize.
"It's the best thing I could have got. It's very cool because I've only got an older computer at home and it'll be wonderful. I regularly go on writers retreats and I'll be able to take my laptop along."
Helen writes poetry, including Japanese forms of haiku and tenka, and has been published in the United Kingdom and the United States as well as at home in poetry anthologies and The Press.
A "quite regular" visitor to Redwood and Central libraries, Helen says her writing friends were thrilled to hear of her win – and a little envious.
Christchurch City Libraries manager Carolyn Robertson said to have a published author win the competition was "the icing on the cake".
The number of entries in the competition was "amazing" she said.
"We know that our website is really well used, but to have that number taking the time to actually enter the competition is fantastic stuff."
Photos of the presentation can be found on the libraries' flickr pages.
Conditions
Winners will be selected by random draw on 24 February, 2009 and notified by email and/or phone
Christchurch City Libraries reserves the right to cancel or amend the competition or these conditions at any time without prior notice. Any changes will be posted on library150.com
Employees of Christchurch City Council, or members of their families or households, are not eligible to enter the competition
Christchurch City Libraries respects the privacy rights of entrants under the Privacy Act 1993, and is required to comply with the Act in collecting personal information from individuals