Soldiers' own note book and diary for 1918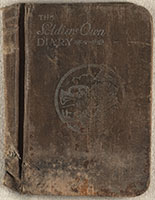 Summary A diary kept by Herbert Walter Clutterbuck. The diary contains printed information designed to help the soldier and the endpapers are maps of the European war areas. Handwritten diary entries begin on Memoranda pages on 26-10-1917. Diary entries are brief notes on Herbert Clutterbuck's locations in Europe and Britain throughout 1918 and 1919. The final handwritten entry is dated 12/6/1919.
Collection location Private collection
Publication information Unpublished and published material
Additional information
Part of a selection of material from the collection of Barry O'Sullivan relating to the first World War. The digital collection includes personal effects of enlisted men from Christchurch, regimental badges, diaries, letters, letterhead paper, newspapers, photographs and postcards.
Related pages
O'Sullivan collection material
Reproduction
This material has been provided for private study purposes (such as school projects, family and local history research) and any published reproduction (print or electronic) may infringe copyright law. Please contact Christchurch City Libraries if you have any questions relating to the use of this material. It is the responsibility of the user to obtain clearance from the copyright holder.