Ripa Island : a lesson for conscriptionists.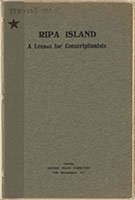 Summary This booklet, by Samuel Veale Bracher, documents the experiences of 13 young men who refused service in the National Service League, were imprisoned on Ripapa Island, and their eventual hunger strike.
Collection location ANZC Research Collection
Publication information London : Friends' Peace Committee, [1914].
Additional information
To this fortress thirteen youths from the city of Christchurch and the West Coast were committed during the month of June, 1913, to undergo military detention. Their names were: Reginald Williams, J. E. Nuttall, Robert McTaggart, Walter J. Hooper, H. Guthardt, James K. Worrall, H. W. Thackwell, Edward Hannam, William George Robson, John McTaggart, J. Coppersmith, Thomas Nuttall and Edward Edwards.
Compulsory military training for youth between the ages of 14 and 21 was established by the Defence Act of 1909.
This material has been digitised from the Archives and Manuscripts collection of Christchurch City Libraries.