Province of Canterbury, New Zealand : list of sections purchased to April 30, 1863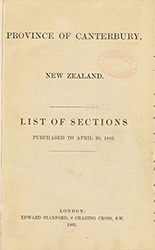 Summary This booklet lists the rural sections of Canterbury from No. 1 to No. 5534, the acreage of the properties, and the surnames of the people to whom they were sold by the Canterbury Association and the Canterbury Provincial Government.
Collection location ANZC Research Collection
Publication information London : Edward Stanford, 1863.
Additional information
In colonial Canterbury town sections were in Lyttelton and the original settlement of Christchurch. Christchurch was then bounded by the north, east and south belts (Bealey, Fitzgerald and Moorhouse avenues). On the west, it was bounded by the roads which circle Hagley Park. Property outside these boundaries were 'rural sections' and the List of sections deals with these properties.
This material has been digitised from the collection of Christchurch City Libraries.
Reproduction
This material has been provided for private study purposes (such as school projects, family and local history research) and any published reproduction (print or electronic) may infringe copyright law. Please contact Christchurch City Libraries if you have any questions relating to the use of this material. It is the responsibility of the user to obtain clearance from the copyright holder.