Rewai Street : World War II letters, diaries and photographs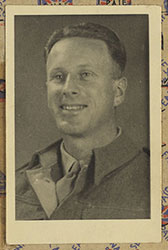 Summary A collection of letters, diaries and photographs from Rewai Street, who served in the New Zealand forces in World War II.
Collection location Private collection
Publication information Unpublished
Additional information
Rewai Tomlin Street (1910-1986) served in 2NZEF from 1941 to 1945.
Rewai Street was born in Seddonville, and educated at Riwaka Primary School, Nelson College, Victoria College and the Wellington Teachers Training College. He taught at schools in the Wairarapa, Timaru and Christchurch. He was teaching at St Albans Primary School when the second World War broke out. In May 1941 Rewai Street entered Burnham Training Camp. He left New Zealand in September 1941 and arrived in Egypt in October. Rewai served in Egypt, Libya, Palestine and Italy. He was wounded in July 1944 and returned to New Zealand in September 1945.
Related pages
Source
This material has been digitised by Christchurch City Libraries from a private collection.
Reproduction
This material has been provided for private study purposes (such as school projects, family and local history research) and any published reproduction (print or electronic) may infringe copyright law. Please contact Christchurch City Libraries if you have any questions relating to the use of this material. It is the responsibility of the user to obtain clearance from the copyright holder.