Jae Renaut collection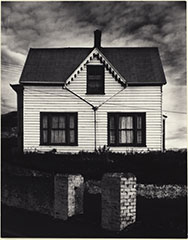 Summary In 1980-81 Jae Renaut was commissioned by the Lyttelton Borough Council to take photos of Lyttelton residential and commercial buildings in order to create a record of the town's heritage. This collection consists of scans of the photographic images printed by Jae Renaut.
Collection location Private collection
Publication information Unpublished
Additional information
The Lyttelton Borough decided to commission a photographic record of 75 Lyttelton buildings with a view to gaining heritage protection status for each building.
Local photographer Jae Renaut was tasked with producing a set of archival black and white photographs that included each of the 75 buildings.
All negatives were shot on large format 5×4 cameras loaded with Agfapan sheet film, and tray developed in Rodinol film developer. Each negative was printed on either Agfa Portriga or Agfa Brovira fiber based photographic paper and tray processed using Agfa Metinol developer. The silver gelatin prints were mounted on archival acid free board to insure a permanent record. All stages of the process were carried in the photographer's Lyttelton darkroom. On completion the black and white print set was stored in light proof boxes made by local instrument maker Peter Stephen. The sets are currently stored in the Lyttelton Library.
Source
This material has been digitised by Christchurch City Libraries from a private collection.
Reproduction
This material has been provided for private study purposes (such as school projects, family and local history research) and any published reproduction (print or electronic) may infringe copyright law. Please contact Christchurch City Libraries if you have any questions relating to the use of this material. It is the responsibility of the user to obtain clearance from the copyright holder.