Lester Priest : Diary 1915
Diary : Image 2 of 88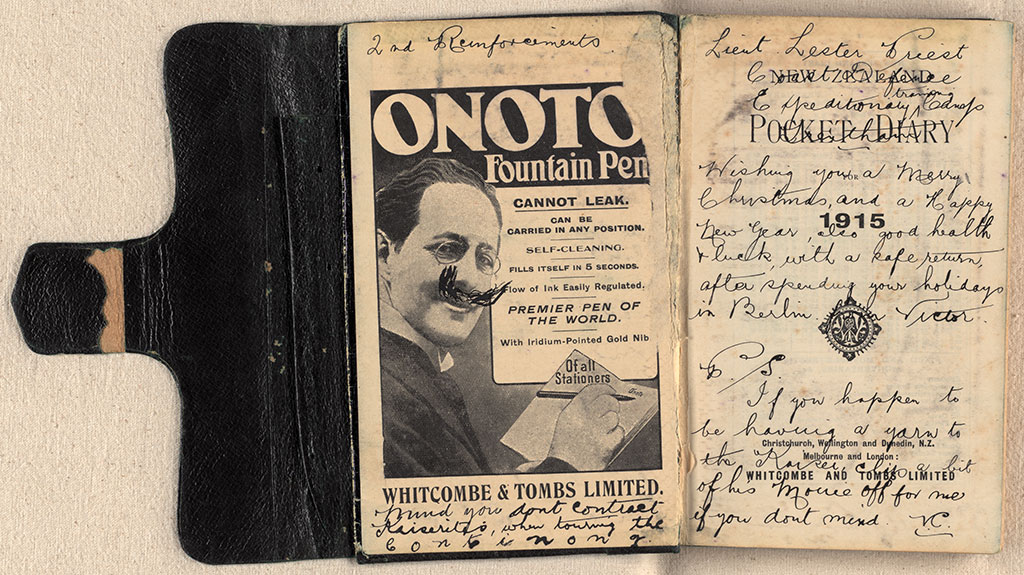 Title

New Zealand Pocket Diary

Creator

Arthur Francis Lester Priest

Date

1915
Image

2 of 88

Physical Description

29 x 16 cm

Notes

Blank pages not scanned.
Source

Private collection

Collection Name

Diary and memorabilia, 1915

Collection Description

A diary kept by Arthur Francis Lester Priest (1893-1915) from late 1914 to August 1915. The diary documents his experience in the first World War. The collection includes some memorabilia kept with the diary: a letter, newspaper clippings, postcard and photograph.

Parent Collection Description

Arthur Francis Lester Priest served from 1914 to August 1915. Service number: 6/1695. Lester Priest was killed at Gallipoli on 8 August 1915, and is remembered on the Chunuk Bair (New Zealand) Memorial, Chunuk Bair Cemetery, Gallipoli, Turkey. Lester Priest was mistakenly reported killed in June 1915, but then reported wounded several weeks later. The Akaroa Mail and Banks Peninsula Advertiser reported on his death in August in November 1915; "his relatives were only told he had been wounded a second time".

File Reference

PCol-Priest-002
Click on image to view thumbnails ~ About this collection ~ Related Material
Source
This material has been digitised by Christchurch City Libraries.
Reproduction
This material has been provided for private study purposes (such as school projects, family and local history research) and any published reproduction (print or electronic) may infringe copyright law. Please contact Christchurch City Libraries if you have any questions relating to the use of this material. It is the responsibility of the user to obtain clearance from the copyright holder.