Soldier's diary
Soldier's diary : Image 121 of 126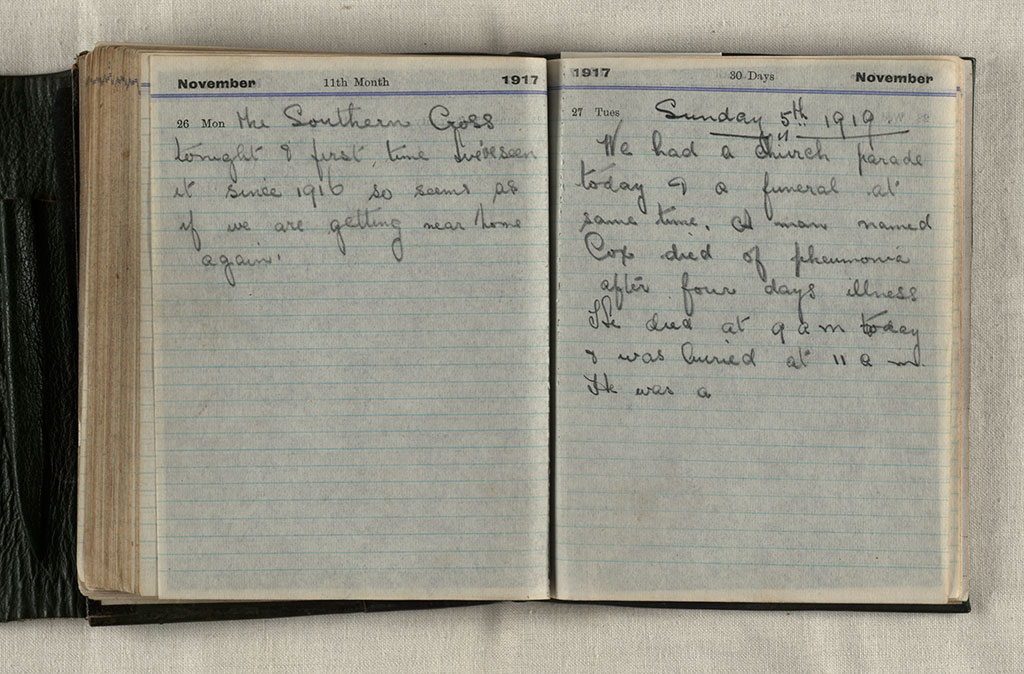 Title

Edward Herbert Aubrey : Soldier's diary

Creator

Edward Herbert Aubrey

Date

1917-1919.
Transcription

1917 November 26 Mon
the Southern Cross tonight & first time I've seen it since 1916 so seems as if we are getting near home again.
1917 November 27 Tues
Sunday 5th 1919
We had a church parade today & a funeral at same time. A man named Cox died of pneumonia after four days illness
He died at 9 am today & was buried at 11 am.
He was a

Image

121 of 126
Collection Description

World War I diary kept by Edward Herbert Aubrey (1891-1963) from May 1917 to November 1917, with brief notes from 1918 and 1919. Some pages were removed and sent to relatives.

Parent Collection Description

Edward Aubrey served from 10 February 1916 to 19 February 1919. He embarked on the Waihora in December 1916 with the New Zealand Expeditionary Force, 19th Reinforcements, New Zealand Mounted Rifles Brigade. Aubrey served in Egypt; and after being wounded on 5 November 1917 part of his left leg was amputated. Edward Aubrey spent his remaining service in medical care in Egypt and then Britain. On his return to New Zealand he returned to farming in the Omarama area on land won in a ballot as part of a Returned Soldiers' initiative.

Collection Location

Private collection

File Reference

CCL-Aubrey-1917-121
Click on image to view thumbnails ~ About this collection ~ Related Material
Source
This material has been digitised by Christchurch City Libraries.
Reproduction
This material has been provided for private study purposes (such as school projects, family and local history research) and any published reproduction (print or electronic) may infringe copyright law. Please contact Christchurch City Libraries if you have any questions relating to the use of this material. It is the responsibility of the user to obtain clearance from the copyright holder.