Soldier's diary
Soldier's diary : Image 108 of 126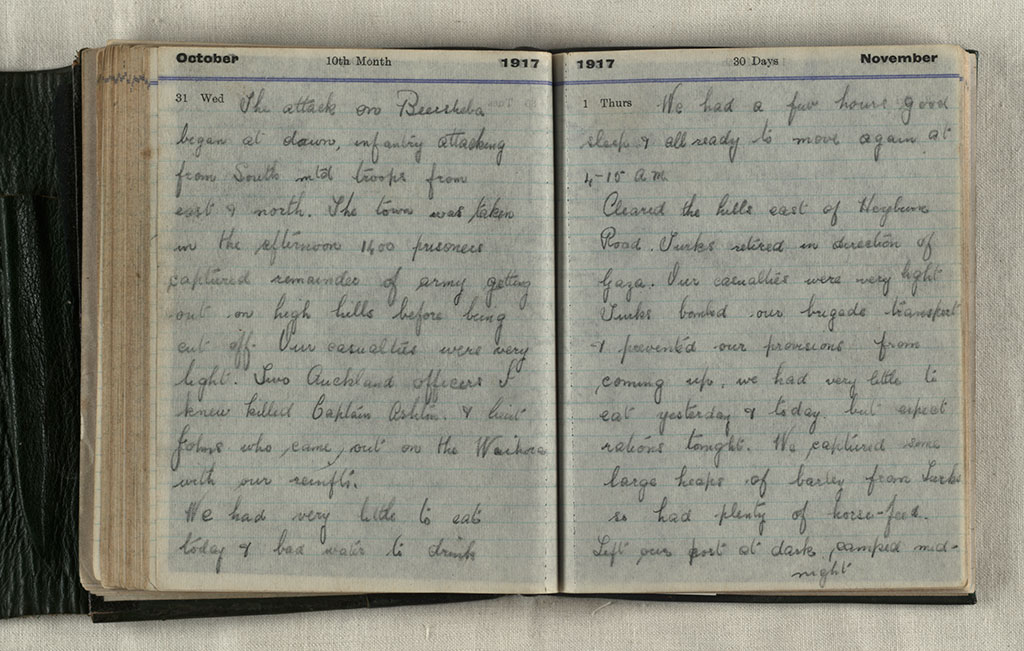 Title

Edward Herbert Aubrey : Soldier's diary

Creator

Edward Herbert Aubrey

Date

1917-1919.
Transcription

1917 October 31 Wed
The attack on Beersheba began at dawn, infantry attacking from South mtd troops from east & north. The town was taken in the afternoon 1400 prisoners captured remainder of army getting out on high hills before being cut off Our casualties were very light. Two Auckland officers I knew killed Captain Ashton & Lieut Johns who came out on the Waihore with our reinfl's.
We had very little to eat today & bad water to drink
1917 November 1 Thurs
We had a few hours good sleep & all ready to move again at 4-15 am.
Cleared the hills east of Heyburn Road. Turks retired in direction of Gaza. Our casualties were very light
Turks bombed our brigade transport & prevented our provisions from coming up, we had very little to eat yesterday & today but expect rations tonight. We captured some large heaps of barley from Turks so had plenty of horse-feed.
Left our post at dark, camped mid-night

Image

108 of 126
Collection Description

World War I diary kept by Edward Herbert Aubrey (1891-1963) from May 1917 to November 1917, with brief notes from 1918 and 1919. Some pages were removed and sent to relatives.

Parent Collection Description

Edward Aubrey served from 10 February 1916 to 19 February 1919. He embarked on the Waihora in December 1916 with the New Zealand Expeditionary Force, 19th Reinforcements, New Zealand Mounted Rifles Brigade. Aubrey served in Egypt; and after being wounded on 5 November 1917 part of his left leg was amputated. Edward Aubrey spent his remaining service in medical care in Egypt and then Britain. On his return to New Zealand he returned to farming in the Omarama area on land won in a ballot as part of a Returned Soldiers' initiative.

Collection Location

Private collection

File Reference

CCL-Aubrey-1917-108
Click on image to view thumbnails ~ About this collection ~ Related Material
Source
This material has been digitised by Christchurch City Libraries.
Reproduction
This material has been provided for private study purposes (such as school projects, family and local history research) and any published reproduction (print or electronic) may infringe copyright law. Please contact Christchurch City Libraries if you have any questions relating to the use of this material. It is the responsibility of the user to obtain clearance from the copyright holder.