Soldier's diary
Soldier's diary : Image 32 of 126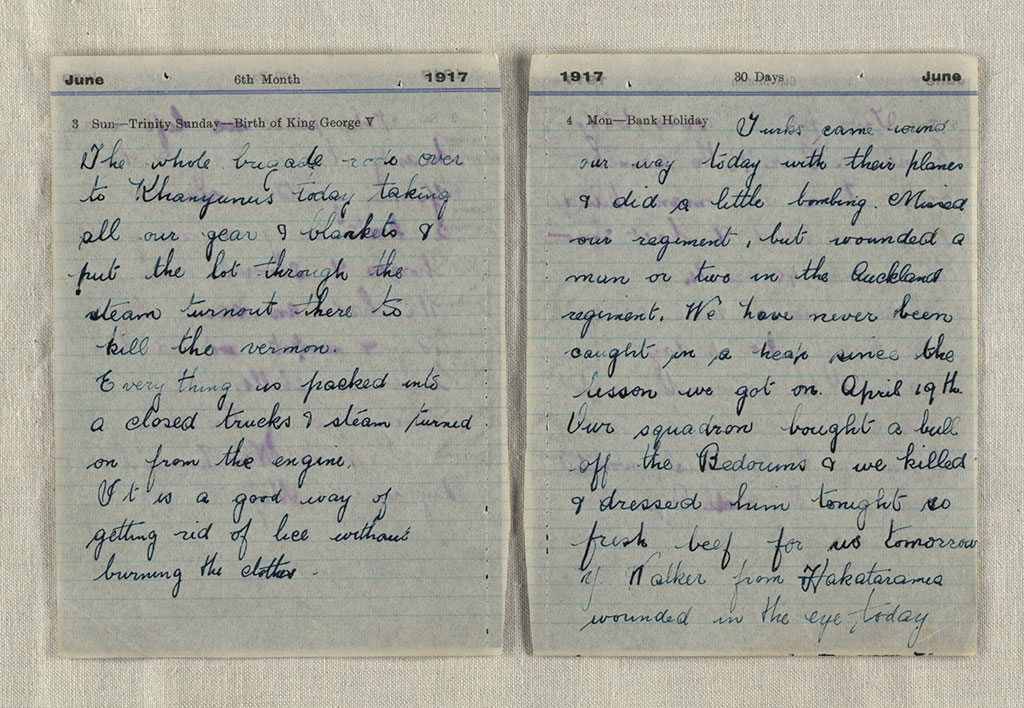 Title

Edward Herbert Aubrey : Soldier's diary

Creator

Edward Herbert Aubrey

Date

1917-1919.
Transcription

1917 June 3 Sun
The whole brigade rode over to Khanyunus today taking all our gear & blankets & put the lot through the steam turnout there so kill the vermon. Every thing is packed into closed trucks & steam turned on from the engine. It is a good way of getting rid of lice without burning the clothes
1917 June 4 Mon
Turks came round our way today with their planes & did a little bombing. Missed our regiment, but wounded a man or two in the Auckland regiment. We have never been caught in a heap since the lesson we got on April 19th. Our squadron bought a bull off the Bedouins & we killed & dressed him tonight so fresh beef for us tomorrow. [Y] Walker from Hakatarama wounded in the eye today

Image

32 of 126
Collection Description

World War I diary kept by Edward Herbert Aubrey (1891-1963) from May 1917 to November 1917, with brief notes from 1918 and 1919. Some pages were removed and sent to relatives.

Parent Collection Description

Edward Aubrey served from 10 February 1916 to 19 February 1919. He embarked on the Waihora in December 1916 with the New Zealand Expeditionary Force, 19th Reinforcements, New Zealand Mounted Rifles Brigade. Aubrey served in Egypt; and after being wounded on 5 November 1917 part of his left leg was amputated. Edward Aubrey spent his remaining service in medical care in Egypt and then Britain. On his return to New Zealand he returned to farming in the Omarama area on land won in a ballot as part of a Returned Soldiers' initiative.

Collection Location

Private collection

File Reference

CCL-Aubrey-1917-032
Click on image to view thumbnails ~ About this collection ~ Related Material
Source
This material has been digitised by Christchurch City Libraries.
Reproduction
This material has been provided for private study purposes (such as school projects, family and local history research) and any published reproduction (print or electronic) may infringe copyright law. Please contact Christchurch City Libraries if you have any questions relating to the use of this material. It is the responsibility of the user to obtain clearance from the copyright holder.