Spreydon Library and the dawn of the network
Spreydon Library's opening in March 1971 marked the beginning of a new era of library service in Christchurch. It was the start of the city's public library network with purpose-built library buildings and professionally-trained staff catering for the needs of local communities.
The new and improved Spreydon Library continued the traditions of the community run libraries that had been operating on the site since 1929 with a friendly service in the heart of the community. The library was built in a pleasant tree lined setting on the edge of Barrington Park. Years later those trees became the centre of controversy.
In 1999 Press newspaper headlines screamed "Saving Spreydon trees' could cost ratepayers $400,000" and "Councillor ready to be chained to at-risk trees". Christchurch City Council was considering the removal of up to three trees to allow for the extension of the Spreydon Library. However, In the event, the trees were saved and Councillor Carole Anderton did not make good her threat to chain herself to the trees.
Spreydon Library had to wait a few more years with some temporary accommodation before a major redesign of the existing building enabled it to remain on its' original footprint and accommodate the needs of the local community alongside the beautiful trees in Barrington Park.
What was so special about those trees? They were part of a special collection of unusual weeping and horizontal branched trees planted in 1924. The trees were donated by Robert Nairn, a well-known local nurseryman and included a weeping elm, a horizontal elm, a weeping ash, a weeping golden ash, a Kilmarnock willow, a weeping rowan, a weeping birch, a horizontal thorn and a weeping thorn. Customers at the library look out onto these unusual trees through large picture windows running the length of the ground floor.
Early Days
Spreydon Library has been a presence on Barrington Street almost as long as the trees. It began as a community run library remodelled out of the old Spreydon Borough Council Chambers after the Borough Council was incorporated into Christchurch City in 1921. In 1925 the Spreydon Burgesses Association asked the city council's Reserves Committee if would be possible to grant a site for a proposed library in the Spreydon council yard. A Spreydon Library committee was established and decided on the name Spreydon Public Library. A Chairman, Secretary and Librarian were appointed and a set of rules drawn up. Library hours were Monday 7 to 8pm, Wednesday 2:30 to 4 pm and Saturday 7 to 9 pm.
In 13 June 1929, the Spreydon Library was officially opened.
Four years later the library had extensions and a makeover and celebrated with a re-opening ceremony on July 11, 1933. The Christchurch Times reported "green shutters, trim trees in tubs on either side of an ornamental doorway and bright curtains".
The library continued as a community run library with support from the Canterbury Public Library until the 1960s when the public library decided to open its first professionally staffed suburban library.
1971 – A New Library
In October 1969 the council approved a site in Barrington Park. Christchurch architects Lucking and Vial were commissioned to design a purpose built building and on 6 March 1971 the library was officially opened by the Mayor of Christchurch, Mr A.R. Guthrey. The library cost $52,061, covered 3000 square feet and housed 17,000 books. The striking building design was awarded a bronze medal in 1971 by the Canterbury branch of the NZ Institute of Architects.
The first librarian, Miss Judith A. Gillies, was the only full time professional librarian and ran the library with the help of volunteers. The library opened for limited hours compared with today's six day a week operation.
By May 1971, 2,050 people had enrolled and by 1992 Spreydon had 10,917 members. In 1991 5,255 people had visited the library for regular preschool story times, class visits and senior citizen's meetings.
Staff had grown to 5 full time (including a Children's' Librarian) and 3 part time staff helped by 2 volunteer shelvers, 10 school shelvers and a cleaner. The library was open 6 days a week from 10am to 6pm except for Mondays and Thursdays when it stayed open until 8:30pm and Saturdays when it closed at 1 pm.
Recent Years
Over the years Spreydon Library has developed a strong bond with the local community becoming firmly entrenched as a hub of activity for locals. Typical of the events was a regular fortnightly plant swap.
In 2006, when threatened with closure residents led by Mrs Janet MacBeth sprang into action, organising a petition and spending many hours collecting signatures against the proposal. The Star reported on March 13, 2006 that more that 3500 signatures had been collected. Mrs MacBeth said of the library "It has that community feel and it's a very friendly and nice place to go to. For a lot of people in the area the library is a large part of their lives and they really appreciate it" . Principals of local schools West Spreydon and Somerfield spoke of how good it was to take their classes to visit the library and the value of the library to children in the community.
Customer Margaret Palmer launched into verse on 22 March 2006
"Close our Library?? No you don't
'Tis only because of more money you want.
Think of our users, so wide a range.
Seniors, children, Adults, the Sick, to arrange
Transport for the many who have no way
Of getting to our Library, come what may.
So this is where the "Mobile Library" must stay."
And further on in the poem,
"We don't think you are very wise.
To state we stay open for a further ten years
Now you are reducing us to tears.
Don't oh don't our Library close
You will upset so many, goodness knows
Just think, when you are old and bandy
And you have no Library handy
Won't you curse the Council of today."
She followed up on August 8 2007 with
"close us down, you said, you did,
Now it looks like a great big fib,
Congratulations, you've seen our way
So no matter what, come what may,
Our library is here to stay."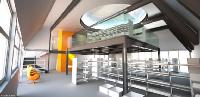 On the 18 February 2008 the newly refurbished Spreydon Library re-opened with a striking new design to better meet changing community needs. The building retained its original footprint but smart new alterations allowed the extension of the mezzanine floor.
An overhead skylight within a steel ring which lifted the roof allowed more space and light into the library. Other features included a new and more open entrance, a lift to provide access to the mezzanine relocation of the stairs and improved work flows and spaces for the library staff. The fiction collection was moved to the mezzanine and a dedicated children's area was created downstairs. Armchairs and coffee tables created pleasant spaces for customers to browse and linger in the library and perhaps spend a few moments gazing at those lovely trees.