Municipal Electrity Department collection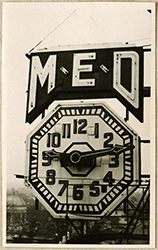 Summary A collection of photographs of Christchurch and surrounds taken in the course of the business of the Municipal Electricity Department. The images document the building of the M.E.D. building in the 1930s, various types of the electrical infrastructure, and includes views of the city from early to mid twentieth century.
Collection location Archive 1050
Publication information Unpublished and published.
Additional information
Following years of discussion and debate about the development of a public electricity supply the Christchurch City Council opened an electricity plant powered by steam produced by the city's refuse destructor in 1903. In July 1903 the City Council's electric light plant was used for the lighting of a public place for the first time (a shop in Colombo Street); and the formal opening of the electric light and power installation took place on July 31, 1903. The city's Electricity Department moved to hyro-electric power, from Lake Coleridge, in 1914. The Electricity Department was reorganised and renamed the Municipal Electricity Department in 1920; Southpower 1984.
Related pages
This material has been digitised from the Archives and Manuscripts collection of Christchurch City Libraries.
Reproduction
This material has been provided for private study purposes (such as school projects, family and local history research) and any published reproduction (print or electronic) may infringe copyright law. Please contact Christchurch City Libraries if you have any questions relating to the use of this material. It is the responsibility of the user to obtain clearance from the copyright holder.