Shipboard diary of Henry Smith, photographs and papers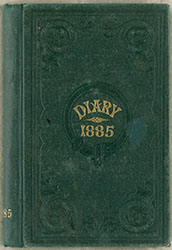 Summary A handwritten diary January 17-February 28 1885 by Henry Smith, which documents the voyage of the Rimutaka to New Zealand. The collection includes a letter of reference dated 20 December 1884, an invoice for rates on land at View Hill, and a few family photographs.
Collection location Archive 1029
Publication information Unpublished and published.
Additional information
Henry Smith (1859-1918) sailed from Plymouth to New Zealand on board the Rimutaka. He set up a blacksmithing business and later farmed in the Oxford area. He was a member of the Oxford County Council.
Related pages
This material has been digitised from the Archives and Manuscripts collection of Christchurch City Libraries.
Reproduction
This material has been provided for private study purposes (such as school projects, family and local history research) and any published reproduction (print or electronic) may infringe copyright law. Please contact Christchurch City Libraries if you have any questions relating to the use of this material. It is the responsibility of the user to obtain clearance from the copyright holder.