Log book of the ship Mirage : a shipboard diary kept by C.E.D. Goff, 1864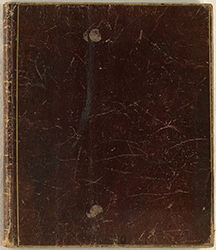 Summary The diary includes biographical information, a passenger list and information about the crew.

Collection location Archive 786
Publication information Unpublished
Additional information
Charles Edward Davis Goff, 1844-1879. Charles Edward Davis Goff (also called Davis-Goff) was born in Ireland in 1844. He came out to Canterbury on the Mirage in 1864 at the age of twenty. In 1868 he married Elizabeth Brydon in Marlborough. They lived first in Renwick, then in Picton, where Charles Goff died in 1879, aged thirty-five.
This material has been digitised from the Archives and Manuscripts collection of Christchurch City Libraries.
Reproduction
This material has been provided for private study purposes (such as school projects, family and local history research) and any published reproduction (print or electronic) may infringe copyright law. Please contact Christchurch City Libraries if you have any questions relating to the use of this material. It is the responsibility of the user to obtain clearance from the copyright holder.