Diary, December 10th 1866 to August 5th 1872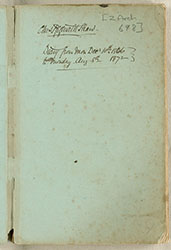 Summary Leather-bound diary of an early surveyor, Charles Reginald Shaw (1829-1906), in the Timaru district, giving working and domestic details, and including running accounts on the right-hand margin of each page. The diary entries run from December 1866 to August 1872.
Collection location Archive 698
Publication information Unpublished
Additional information
Shaw was born in Cheshire, England in 1829 and spent some time on the Australian goldfields before coming to New Zealand in 1857. He was appointed Surveyor for the Canterbury Provincial Government and carried out surveys on Banks Peninsula. In 1861 Shaw moved to Timaru where he was District Surveyor till 1877. He later farmed at Totara Valley until 1898. The diary has daily entries and gives details of the sections he surveyed as well as comments on social affairs, and family matters.
This material has been digitised from the Archives and Manuscripts collection of Christchurch City Libraries.
Reproduction
This material has been provided for private study purposes (such as school projects, family and local history research) and any published reproduction (print or electronic) may infringe copyright law. Please contact Christchurch City Libraries if you have any questions relating to the use of this material. It is the responsibility of the user to obtain clearance from the copyright holder.